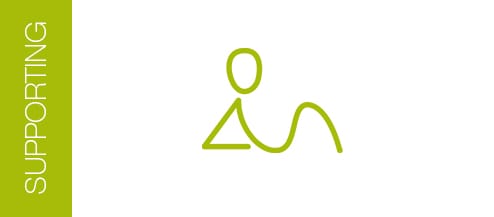 Supporting
The Supporting attribute of our Foam for Care products encompasses the impact resilience, pressure relief and caring functionalities that make seating more comfortable and enhance sleep quality. Pressure-relieving support surfaces are essential medical equipment in hospitals and care homes and include mattresses, wheelchair cushions, positioning cushions and other accessories.
Our foams offer many advantages in supporting functions. Covering a broad spectrum of density, hardness, resilience, dynamic fatigue and air permeability characteristics, they can be designed to mould around the contours of the body, spreading the patient's weight over the whole support surface at consistent low pressure and alleviating pressure on the areas of the body that are most susceptible to pressure ulcers. They are easy to form into different shapes and thicknesses for compatibility with the needs of different patients and equipment, including adjustable beds and approved bed sizes.
As well as contributing to comfort and improving patient outcome, our foam products help to support the work of nursing staff. They are lightweight and easy to handle during turning, cleaning and maintenance. They can also be designed to comply with specific fire retardancy and hygiene standards.
All Foam for Care products are CE marked.

Based on your IP address, we are showing you the Foam for Care products available in your country. If you would like to see products for a different country, please select from this list: