Going to the core of medical needs

Going to the core of medical needs
We work closely with manufacturers and decision-makers in the medical profession to make sure we fully understand their needs as they evolve. Our innovations help them to meet everyday challenges, including safety, budgetary and environmental goals. We achieve this by tuning our mattresses to meet specific needs for different applications:
Wash street proof
Patented system
Ingenious label design
Entire mattress washable
Anti decubitus properties
Isolation
Extra-strong cover
Safe, sewn construction
Highly fire retardant
Hard-wearing
Antibacterial
Anti-

MRSA

Anti-house dust mite
Anti-fungal
Anti-odour
Home care
Basic care applications
Simple constructions
Good comfort and support
Wipe-clean covers
Paediatric
Low body weight usage
Cot mattress versions
Soft, durable foams
Easily disinfected
Bariatric
Higher body weight usage
Larger dimensions available
Specially designed cover
Firm, higher

density

foams
A comprehensive portfolio
Single layer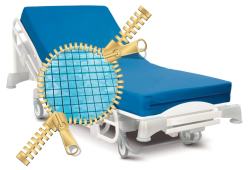 In its simplest format, a single piece of foam can be transformed by our technology to produce basic mattresses and more complex structures. We can also build in many design features and benefits from our unique key ingredients system to provide the comfort and pressure-reducing characteristics needed.
Multi-layer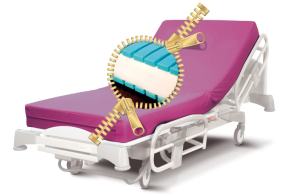 Intelligent use of different foam grades in layers is an effective way to create anti-decubitus solutions. We select and construct the optimum foam combinations from our vast range of foam grades to achieve the desired result. We may use two, three or more layers, with individual layers typically 2 cm to 10 cm thick.
Visco Elastic Foams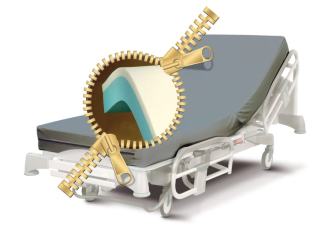 The pressure-reducing attributes of Visco Elastic foams are well known. As a leading foam producer, we understand how the best characteristics of Visco foams can be used with more resilient grades to provide the right combination of support and pressure care. Our Visco grades also offer excellent breathability.
Multi-zoned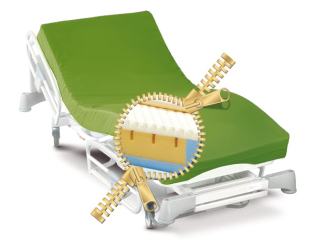 Patients have different pressure reducing requirements for different parts of their anatomy. Their needs can be met by creating zoned mattresses using different foam grades. For example, extra care can be taken to protect heels, where pressure sores can be a particular problem.