Why choose Recticel Flexible Foams?
The ideal partner for your business
The market for seating and bedding products is being driven by a demand for wider variety and customisation. Consumers are increasingly health-conscious and interested in products that can enhance their relaxation time and sleep quality. They also expect attractive, innovative designs and products that are safe, easy to transport and eco-friendly.
Recticel provides manufacturers with a reliable supply of high-quality supporting foams that are lightweight, versatile and durable. They are economical to produce and meet essential standards for safety, fire resistance and sustainability. Our foams for use in bedding and upholstered furniture carry the CertiPUR logo, certifying that they conform to the programme's stringent environmental, health and safety standards.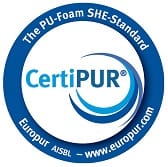 Experience
The Recticel Group has a strong reputation in the bedding industry, with a specific portfolio of products and brands aimed at improving the health and well-being of customers. The Flexible Foams division provides value-added solutions for mattresses, pillows and seat components by exploiting the unique possibilities offered by foams. Through focused manufacturing and post-treatment processes, we are able to manipulate the qualities of our materials to suit almost any requirement and help manufacturers to achieve the results they want.
As well as providing technical support, we offer consistent quality and service worldwide. Our global production footprint is supported by strong central facilities and services. These include a dedicated structure for innovation and R&D, a physical & chemical laboratory and 2D & 3D competence centres. These help us to develop a materials portfolio based on functional expertise. They also enable us to design robust solutions which are then manufactured locally using serial production methods.
Operational and logistics practices are standardised across all production units. Commercial accounts are managed globally with local follow-up, and we have a dedicated project management organisation for all new projects.