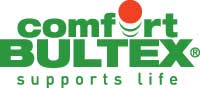 This is how seating comfort is created
Comfort Bultex® is a high-performance upholstery foam, developed specifically for sofas and related applications. The product range is characterised by foam types with a fixed ratio between density and hardness to guarantee optimum comfort characteristics. Together with the foam's unique composition and production process, this forms the basis for excellent, long-lasting seating comfort.
Unique cell structure
Conventional foams consist predominantly of cells of the same size. When burdened with a weight, all these cells give way at the same time, with a negative effect on comfort characteristics. Unlike these conventional foams, Comfort Bultex® consists of a network of different-sized cells. As the load increases, different cells from the network give way, so that the material is compressed very gradually. This results in better cushioning and support.
Accuracy and efficiency
We produce Comfort Bultex® in blocks with a length of 30 to 60 metres. After a cooling phase, we cut these into lengths of about 3.5 metres for easier handling. Using common cutting techniques, we can process the finished pieces of Comfort Bultex® into ready-made cushions in any size and type. We pay particular attention to efficient 'nesting' during cutting in order to obtain the maximum number of cushions from one piece and thus minimise material costs for our customers. All small remnants are completely recycled.
Customers can easily calculate the optimum cushion thickness for their design using our quick, accurate Comfort Bultex® Advising System. The Comfort Bultex® 100% seating comfort guarantee provides extra assurance that the cushion filling meets their expectations.
Resilience

and shape retention

The typical resilience of Comfort Bultex® allows cushions to follow the contours of the body very flexibly. In addition, Comfort Bultex® has a better memory function than conventional foams, 'remembering' its original shape more accurately and regaining it faster after compression. Comfort Bultex® retains its shape-regaining ability for a remarkably long time, ensuring that sofas remain comfortable after years of service.